One of the things you will have during a kitchen makeover is to install the floor. Whether this comes before or after the kitchen cabinets doesn't really matter. What matters is that you install the right type of floor material.
In that case, you may have to talk with the nearby flooring installation contractors to help you choose the right material to use. They will also carry out the actual installation on your behalf.
The following are the common kitchen flooring ideas you may want to consider:
Vinyl Flooring
Vinyl flooring comes in terms of planks, tiles or sheets. Among all the kitchen flooring options, vinyl is the easiest to install.
With an intact sub-floor, vinyl is also the cheapest to install. You don't need a fresh underlayment to install it. The price of vinyl flooring will depend on whether it is sheets, tiles or planks.
The most expensive are planks. Overall, vinyl is less expensive compared to the other types of flooring materials. It is also resilient and easy to clean.
Laminate Flooring
Laminate is created to look like metal, natural stone or hardwood. That makes it one of the most inexpensive flooring options. But it is less long-lasting compared to the other materials.
It is easy to scratch and may find it hard to withstand the high kitchen traffic. Also, laminate flooring performs very poorly in an environment with a lot of water spillage.
After installing it, you should avoid spilling water onto the floor as much as possible. Or, buy water-resistant laminate which is more expensive.
Wooden Flooring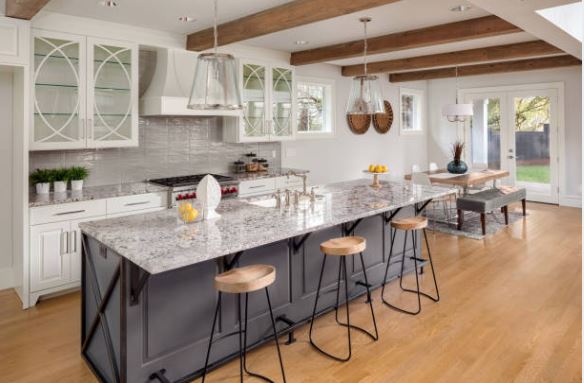 Wood is one of the most common flooring options for the kitchen. Not only does it look elegant, but it is also a highly durable flooring option.
In this case, we are talking about hardwood planks, which are designed to cover the kitchen floor. One thing about wood is that it has a warm feel on it. It is also more durable than laminate or vinyl flooring.
When well-polished, wood can easily withstand the water spillage in the kitchen. As long as you get evenly-cut planks, installing wooden flooring is simple and easy.
Why Hire Flooring Installation Contractors
We are not suggesting that you try to install your kitchen floor yourself. There could be a few things you might overlook during the installation process, leading to undesired results.
In the kitchen, the interaction between the floor and the cabinets call for an expert to get involved.
Another thing about working with a qualified contractor is that you will have peace of mind knowing that your work is of the highest quality.
If anything, the contractor has liability insurance, which means your kitchen is properly covered. Importantly, you may lack the time to install the floor yourself.
Even if you did, the work may prove to be beyond your abilities. So, don't waste time trying to do the installation yourself. Talk to an experienced, informed, tested, and trusted flooring installation contractor today.
That way, you can be sure that the floor will last for a long time to come.