Design, Layout & Installation
Once bugdet is established we will advise on custom/bespoke layout, design & installation/fitting of bath, basin, shower, toilet, granite tops including tiles & plumbing work.
Appliances Fixtures, Fittings & Accessories
We only source the best the best materials, fixture, fittings & enclosures/cubicles ie. cupboards/cabinets, floating shelves, taps, towel rails, lighting, doors, mirrors, soap dispensers, toilet roll holders etc.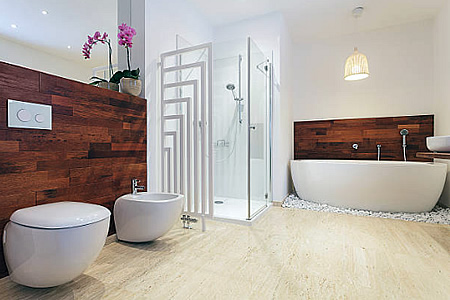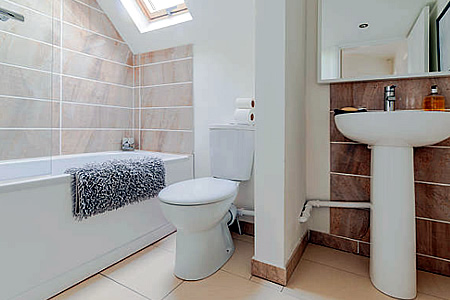 Skip to:
CPT Builders: Bathroom Renovators & Fitters
Every home owner wants to have a bathroom that is relaxing, as most people like to spend time in their bath where they are able to get some solitude and just unwind from the busy day.; A bathroom that does not help you to relax is not a good thing, and a bathroom that is cramped and dark is even worse.; That is why having some bathroom renovations done is often one of the most important improvements for home owners.
Small Bathroom Design – Expert Tips, Tricks and Ideas (Source: Youtube)
When you ready to have your renovations done in your bathroom, there are plenty of different things that you need to consider, apart from finding a suitable company that has a team of professionals to do the job. Having a look at different bathroom renovation ideas and what the modern bathrooms in Cape Town feature would also be a good place to start.
Here is a step by step plan for you to make decisions on for your bathroom remodelling, before you contact our building contractor the team at CPT Builders. With this plan you can ask for various bathroom design ideas and to see what the most popular additions are in modern bathrooms.
The first big decision you have to make is how much you want to have your bathroom renovations cost. If you have an idea of your maximum budget the following choices will be easier, although you might like a lot of different styles and finishes, the cheaper items will help you keep within your budget.
Choices to Make for Your Renovation Project
Base Colours – Choosing the colour of your tiles, paint and appliances will make the rest of your choices easy.
Tubs & Showers – Make decisions on the type of tub you want, if you want a tub and if you want a shower what type of shower do you want.
Toilets & Basins – Choosing the size and style of toilets and basins does depend on your personal choice and the size of your bathroom.
Apart from these decisions, you also need to look at the size of your bathroom and ask your professional bathroom renovators for ideas on small bathroom designs and ideas on showers, toilets and other appliances.

Bathroom Remodeling
Home owners who have chosen to have their bathroom remodelled know that it is a very lengthy process and no matter how hard you try there is going to be inconvenience to your home life until the renovations are complete.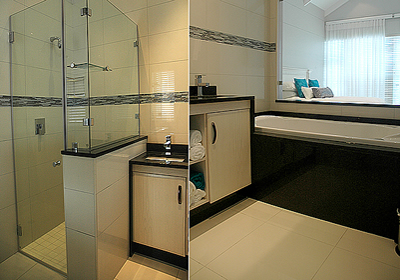 Sometimes the choice for a bathroom renovation project is more out of necessity than desire, for example if your bathtub has developed a huge crack and every time you try and have a bath you land up flooding the bathroom, it is easier to rip your tub out and replace it, so while you busy with that you decide to make some other changes to make your bathroom a more peaceful place to relax.
SEE ALSO: Complete Pool Layout Design, Restoration, Renovation & Installation
Older homes in Cape Town often have tubs, showers, toilets and basins which are old in style and tend to be large in structure which often makes the bathroom feel cramped. Remodelling your bathroom will help to make it feel spacious and airy as well.

Bathroom Renovation Cost
For all home owners the biggest decision they have to make when you thinking about making changes to your bathroom is the amount of money you have available to spend on the improvements. Although it is common knowledge that bathroom renovations do cost a lot of money, there are ways to make the changes you need to make without going over your set budget.
A lot of home owners in Cape Town might choose to delay their bathroom remodeling until they can afford all of the modern finishes and appliances that they like, although this is an option, the home owners who need to have their bathroom changes done immediately feel that they have to settle for lower quality items.
Remember that not all the cheaper appliances and finishes are lower in quality; you will often find that items are ranged by model and popularity, so something a little less popular will be more expensive, or a newer model is also more expensive. Ask your team of professionals at CPT Builders for advice on appliances and finishes that fit into your budget for a beautiful bathroom!
For all Your Bathroom Design, Renovations, Remodeling, Cupboard & Cabinet Enquiries, Please Contact CPT Builders on 021 012 5370
Contact CPT Builders