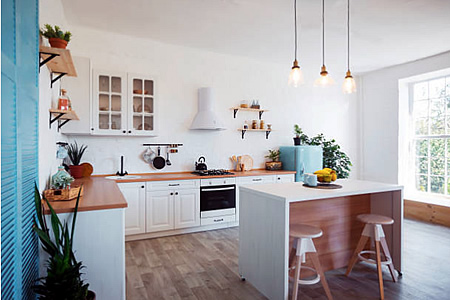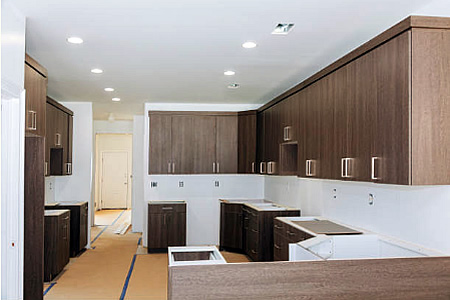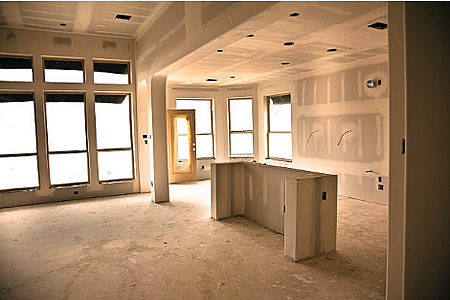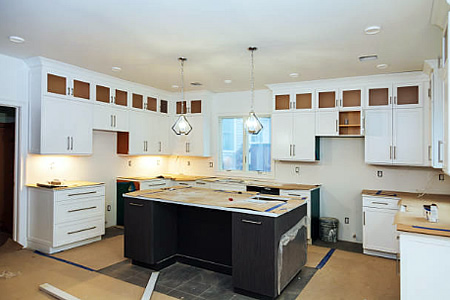 < We Cover All Areas of Cape Town >
---
Plan, Design & Renovate
High quality bespoke & customised design & interiors, finishes & fittings, complete with plumbing, electrics, lighting, tiling & flooring
Cupboards | Cabinets
We plan and design your small, styled or open plan kitchen layout with tops, counters, island including cupboards, doors and cabinets. Our building company only supply the very best materials and offer a world class after sales service.
CPT Builders: Kitchen Fitters & Renovators
The kitchen is the busiest area of the home, often referred to as 'the heart of the home' but the joys of preparing meals, having family conversations or catching up with old friends in your kitchen can be destroyed if your kitchen is not the haven you want it to be. There are many things to consider when you looking at doing some kitchen renovations, especially in Cape Town where many homes have beautiful sea views.
Kitchen Designs. Planning-Island or Not?
For all Your Kitchen Design, Renovation, Remodeling, Cupboard & Cabinet Enquiries, Please Contact CPT Builders on 021 012 5370
Apart from hiring a team of professionals to attend to your kitchen remodeling, you need to know exactly what design you want to have, especially the layout. The professionals at CPT Builders are the most experienced kitchen renovators in Cape Town with a wide range of plans for you to look at.
Things to Consider for Your Designer Kitchen
Built in Cupboards – Almost every modern kitchen has built in cupboards, but there are plenty of different designs for your built in cupboards, knowing what style and design you want is important.
Space Allocation – Knowing how much space you have available and what appliances you want to have fixed where will allow you to plan your kitchen layout effectively and show you how much space you have for food preparation.
Layout – Once you know what you need in your kitchen, like if you don't have a laundry area or you need a breakfast nook, you can sit down and plan the layout of your new modern kitchen including space for your oven, microwave, fridge, freezer and anything else you need to include.
SEE ALSO: Complete Bathroom Remodel, Design & Renovation
Finishing Touches – The finishing touches include your handles, knobs, type of counter tops, colour schemes and the different types of materials you want to have in your kitchen. Like wooden cabinets or marble counter tops.
Having your kitchen renovated is an exciting time, although it is an inconvenience and causes a lot of disruption to your daily life, the thoughts of scrumptious meals, cosy family discussions and smells of freshly baked goodies creating memories that will last a lifetime make everything worthwhile. To ensure you get to start making these memories as quickly as possible you need to employ the services of a professional kitchen renovator like the team at CPT Builders.
Kitchen remodeling
Whether you are a budding chef or only go into your kitchen to prepare meals or bake things when necessary, having a kitchen that is well laid out and homely makes daily chores much more enjoyable.
The most common remodeling projects involve your kitchen cabinets, counter tops and colour schemes. The professional kitchen renovators in Cape Town are able to advise you on the most effective means of utilizing your current kitchen area and improving the layout so that your kitchen is a great place to be.
Most of the older kitchens in Cape Town are dark and badly laid out. By having your kitchen remodeled you are able to change your kitchen completely to suite your lifestyle, even small kitchens will be the heart of the home after a well-planned remodeling.
There are plenty of modern finishes, accessories and styles that do not cost too much but still give you the benefit of a modern kitchen that is friendly and inviting!
Kitchen Renovation Cost
The biggest setback for any home owner who is considering having their kitchen renovated is the total cost of the project. There are plenty of different styles, layouts and materials which add to the total cost of your remodeling that make the overall cost higher.
When you meet with the professional kitchen renovators in Cape Town that you have decided to interview for the project, make sure that you listen to all the ideas they can give you, including the variety of finishing touches.
The easiest way to make your kitchen remodeling cost less is to choose materials and finishes that are cheaper, although you also need to compare the longevity of the materials and your budget. It is best to have a good idea of what layout you want, and your maximum budget and then discuss your materials and finishes with the professional from CPT Builders to get your final design without going over your budget.
-Contact CPT Builders on 0210125370